ASSOCIATION SPORTIVE D'ORIGINE ARMENIENNE
Offices : 65 bis, Boulevard Rodin
92130 Issy-les-Moulineaux
Stade : Parc des Sports
4 avenue Jean Bouin
92130 Issy-les-Moulineaux
(access RER - Tramway, see site www.sncf.com)
Club founded in 1975
President Francky Toutoundjian
Coach : Vincent Yazmadjian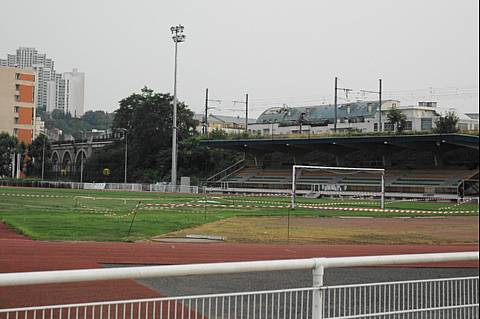 Parc des Sports d'Issy
Last season Arménienne did the double over Red Star, at Issy a poor punch out by Fréd Néret gifted the home side an undeserved win, while at Bauer later in the season a last-gasp goal sank Red Star. This time out, no mistakes, a win is imperative for Red Star.
Mustapha Lablack, former Red Star man has recently joined Arménienne from Poissy.
IN THE PAST
Arménienne v Red Star, 24th October 1993
ARMENIENNE - RED STAR : 0-1 (goal : Agasson 43, penalty)
Red Star : Guéret, Dorizon, Brighenti, Zinalibine, Brucato, Miath, Zouaoui, Vasquez, Mauricio, Agasson, Bouabdellah (Bourdache 75). Coach: Patrice Lecornu.

THE SQUAD:
Goalkeepers : Cabouret (out of contract), Nganko (Red Star FC 93, DSR), Yazmadjian
Defence : Konaté, Neveux, Masseron, Brouillon, Di Rocco, Annicette (Cosmo, DH)
Midfield : El-Zayati, Chalqi, Berete, Malki, Mura (Alfortville, PH), Monessian (Alfortville, PH), Jalliti (Red Star, DH-DSR), Krizoa (out of contract), Dickenson
Attack : Akoun, Barrat (Choisy-le-Roi, CFA), Fournié, Davidson, Beuvard (Quimper, DH)

OBJECTIF : Promotion
© AllezRedStar.com