" LE RED STAR, mémoire d'un club légendaire"
(Extracts, Part Four)
THE STADIUM IN THE RUE DE LA CHAPELLE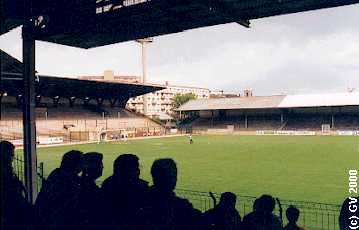 Stade Bauer at the end of the twentieth century
"In 1910, the directors of Red Star who were visiting Saint-Ouen didn't visit the Puces market. They were on the lookout for a pitch to play football on, a pitch to replace the one lost at Grenelle. They had been directed to the Rue de La Chapelle, on the very spot where today one will find the Stade de Paris.
Lifting ones head, one perceives the Basilica of the Sacré Cœur of Montmartre. One would believe that one was in Paris. But when one looked around, one was quickly mistaken. A forest surrounded, a forest contained by wire fences, made up of lilacs, hollyhocks, bindweed and climbing plants. Add to this a multitude of allotments where flowers, vegetables and fruits were grown. Some even had sheds to store tools in. Some of the shed lived in...
The directors were pleased with the place. All that remained was to negociate. At that time virtually all of Saint-Ouen was owned by four or five families, amongst them the Compoint family, former wine growers who owned the frass and the little gardens on the Rue de la Chapelle and numerous lands in the north of Paris. Today there exists a Compoint Passage in the XVII arrondissement of Paris. The deal had been done.
A turning point in the destiny of Red Star. Gros-Caillou was finished. The club we from now on be Red Star of Saint-Ouen. At Saint-Ouen, however, there already was a football club, the Jeunesse Athlétique de Saint-Ouen, whom possesed a stadium in the Rue du Landy. So what ! Red Star, despite only renting it's fields still considered itself to be a Parisian club.
The new stadium was inaugurated by an international friendly game, where England beat France 3-0 on the 23rd of March. On the 9th April Italy visited and were held to a 2-2 draw.
During the Summer improvements were made to the facilities of Rue de la Chapelle. The pitch was extended lengthways and widthways. A grandstand 60 metres long was erected, and terracing was installed in order that the spectators might see better. As for entry prices, these were set at 2 francs under the grandstand and 1 franc for the uncovered terraces.
Despite the rise in prices, on the 28th of January 1912 around 4 000 sporting fans witnessed a 1-1 draw between the teams of France and Belgium. Nearly 5 000 were there on the 12th January 1913, to see Fracne beat Italy 1-0. These international matches served to prove that the Stade de Saint-Ouen ws more than just the stadium of Red Star, but one of the best in the Paris region.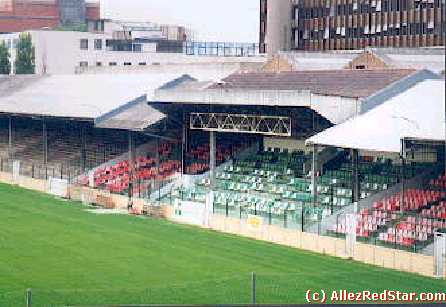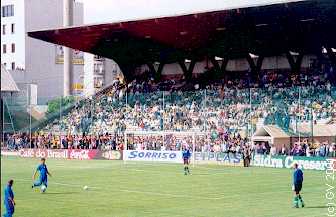 Bauer, main stand and Brazil during training, 1998
(to be continued)
LE RED STAR,
mémoire d'un club légendaire
by Guillaume Hanoteau, with Gilles Cutulic
© Robert Laffont - Editions Seghers
Dépôt légal : 1983