" LE RED STAR, mémoire d'un club légendaire"
(Extracts, Part Seven)
GAMBLIN USES HIS HANDS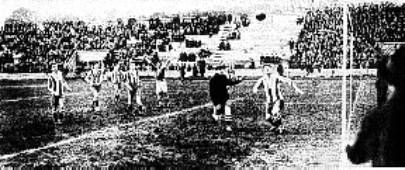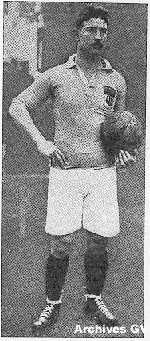 Gamblin boots the ball clear after controlling it with his hand
Red Star Amical Club won the Coupe de France season 1920-1921 by beating the Olympique de Paris by 2 goals to 1. The pitch was invaded by the crowd and Dr Michauxs' cup was presented to Gamblin amidst chaotic scenes. The day after, L'Auto appeared with the following headline :
CHAYRIGUES WINS THE COUPE DE FRANCE
OUR NATIONAL HERO PIERROT
MAKES A TRIUMPHANT RETURN
In the schools, everyone was rather disappointed. One expected more after such an event which was for the youngsters at that time almost as important as the storming of the Bastille. The discussion was about the honesty of Red Stars' win.
- If I was for Red Star, I'd be ashamed to have won.
- Why ashamed ?
- Because they may well have won on the scoreboard, but not on the pitch. The ref should have given the goal to Darques.
- Are you crazy ? The ball never crossed the line !
- Yes, because Gamblin used his hand !
The expression used by French schoolboys at the time was not to "faire une main", (handball), but "faire un ems", a mysterious word which most probably is a corruption of the English word "Hands".
The discussions raged on for hours, including various insults and accusations. Including one that at Olympique they were so ugly that they were forced to emply Belgians !
True, the left back for Olympique, Huysmans was a Belgian international. Sometimes, juvenile arguments stooped as low as to using racism. By means of retaliation, the pro-Olympique boys retorted with "He's not very French, Chayriguès with his English name !"
Almost as inexplicable as the use of the expression "ems", in 1921 Parisian ears found British sounds in the Chayriguès, a name very much from the Auvergne. The French have never really been too gifted when it somes to foreign languages."
(to be continued)
LE RED STAR,
mémoire d'un club légendaire
by Guillaume Hanoteau, with Gilles Cutulic
© Robert Laffont - Editions Seghers
Dépôt légal : 1983