" LE RED STAR, mémoire d'un club légendaire"
(Extracts, Part eleven)
Gilbert Zenatti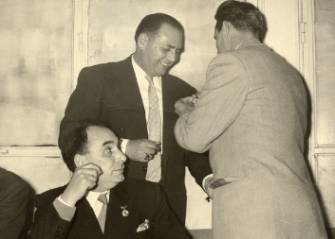 Gilbert Zenatti © Gilles Saillant
But back to Red Star.
After having nearly abandoning professionalism, Red Star were demoted for the start of the 1952-1953 season to the second division. They took the place of Amiens and Le Mans who had resigned.
At the same time Red Star rediscovered to the Stade de Paris. During their absence, and their exile at the Parc des Princes, the municipality of Saint-Ouen had rented the stadium to the CAP, homeless at the time, as well as to Rugby League and speedway.
This last-gasp resurrection was down to one man, Gilbert Zenatti. This pied-noir from Algeria ran an important cloth business in the rue du Caire and factories in the north. Former player with Galia of Algiers, he was foortball mad and it was this madness which led him to Red Star.
Gilbert Zenatti was totally unlike Jules Rimet. He was even his opposite. At this time football was at the mercy of the bosses. Often ther was no money to go round, and to get the players to excel it took more than the delicatesse of a bishop. More like the dealing os a shady operator. Qualities that Zenatti posessed.
During one particular crisis - at that time Red Star went through several - a player sho had not been paid since several weeks demanded a meeting with Zenatti. The latter arrives and from his raincoat pocket pulls out and enormous wad of notes and throws it on the table.
- See, son, this is the money with which I'll pay Red Stars debts.
From the other pocket he pulls out a much smaller wad.
- Thats' what is left for me to live on !
Eventually :
- But son, if you have a problem, tell-me - I'm ready to share - to get yyou out of a fix. How much do you need ?
Zenatti forgot that he was the faulting debtor. He only wanted to be the friendly uncle coming to help out friends in need. The funny thing is, he managed to give this impression. The creditor soon forgot what he was owed and went away with something, but only a fraction of what was rightly his.
Such was Gilbert Zenatti, the director who fitted into a role in football where the players were still treated as slaves, where clubs could do away with their services as if they were just merchandise.
He never took holidays, every day he was either at Saint-Ouen or at the offices at 14, place de Clichy. He also paied from his own pocket. With this Red Star cost him dearly.
Zenatti bought the Swede Melberg, the international Quenolle, Amalfi & Lamy from Racing. Eventually he looked to sell Melberg, Quenolle, Amalfi, Lamy.
(to be continued)
LE RED STAR,
mémoire d'un club légendaire
by Guillaume Hanoteau, with Gilles Cutulic
© Robert Laffont - Editions Seghers
Dépôt légal : 1983