FOOTBALL CLUB DE MULHOUSE SUD ALSACE

Stade de l'Ill, 45 boulevard Stoessel
68200 Mulhouse
Capacity : 11 303 Tel. +33 3 89 32 02 42
MULHOUSE, town in the Bas Rhin (Pop. 130 000)
Official Internet Site : www.fcmulhouse.com
Non-official : www.mulhousefoot.net.
Budget : 5 MF
Last season : 11th (CFA, group A) - 78 pts (W11, D11, L12)
Colours : White / Blue
Mulhouse are, along with Red Star and Valenciennes, one of the "amateur" clubs in the CFA to have played in the second division. Following an ejection from Ddu groupe A à avoir connu la Division 1. Après une chute brutale (en deux an to the CFA in two years, Mulhouse are trying to get back into the big time. Last seasons' coaches were two ex-Red Star men Bruno Scipion and Daniel Léopoldès - after a failure they were shown the door and now sports teacher Damien Ott, 36 is now in charge.
Just like Red Star, Mulhouse have lost twice this season, against Dunkerque and Viry-Châtillon).
Striker David Rinçon played at Stade Bauer in 1993-94, then with Dunkerque, and scored a hat-trick. The game ended 3-3 and Red Stars' scorers were Marlet, Thimothée & Michel.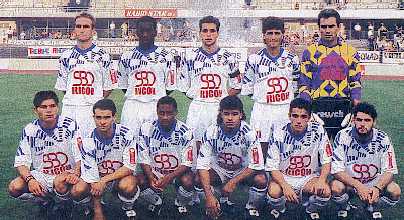 Mulhouse 1994-95, inclusing Red Star goalie Gilles Bourges. The then coach was Bernard Genghini.
Back : Sirvent, Colling, Horace, Cuca, Granon, Djordjevic
Front : Szklarek, Jean-Alphonse, Taborda, Diringer, Bourges
SQUAD (season 2001-2002)
Goalkeepers : Guillaume Coffy, Mickaël Pacati
Defence : Sylvain Chavrondier, Jérôme Cintas, Jimmy Maillard, Vincent Milliet, Patrick Moritz, Henrick Pongan, Alain Tjock
Midfield : Rachid Barkat, Samir Bourouina, Tchen-Sseu Kalathung, Régis Kittler, Fabrice Normand, David Rinçon, Jérôme Tena, Fabien Trzebiatowski
Attack : François Bader, Cédric Chamand, Sébastien Clauss, Goran Djordjievic, Sylvain Heckly, Karim Oughedni
TRANSFERS
Out : Djilali Borsali (Colmar), Christophe Braghiroli, Dieudonné Nsoga, Nabil Mebarki (Colmar), Majid Karryjane, Gérald Ettori, Yann Gabriel (Hirsingue), Christophe Milliet, Cristobal Barrios (Switz.)
In : Guillaume Coffy (Pau), Michaël Pacati (Valdoie), Jérôme Cintas (Limoges), Alain Tjock (Mende), Jimmy Maillard (free agent), Aymerick Pongan (Rumilly), Cédric Chamant (Réunion), Samir Bourouina (Pau), Régis Kittler (Clermont Foot)
© GV 2001