AWAYDAY TRAVELS WITH RED STAR 93
---

ASSOCIATION SPORTIVE BEAUVAIS OISE
Beauvais have succeeded where Red Star have failed, in bouncing straight back to the D2. Under coach Jacky Bonnevay (pictured in his days at Red Star), a coaching novice, the club from the Oise region Beauvais have assembled a successful team of youngsters and on-loan signings.
Founded after the Liberation, the club has been something of a yo-yo club, experiencing relegations and promotions on a regular basis. In the cups, a modicum of glory was witnessed in 1988-89 with a quarter final spot against Auxerre after eliminating Le Havre, Bordeaux, Lens and Caen.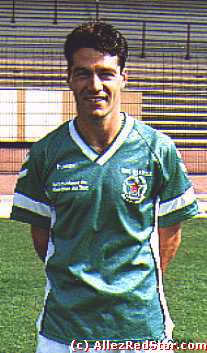 This season, a series of 1-0 wins put the Beauvasiens on the right track, including an opening day success at Marville against Red Star. Never really out of the top three, Beauvais have earned their promotion. In the League cup, Beauvais knocked out Le Havre before losing to Sedan at home. At home, they have won 13, drawn 3 and lost only twice, scoring 29 conceding 10. They have the best defence in the championship, with Karwat / Levet, Clément, Sanz, Moulin, Fischer, Zèbre & Vairelles, cousin of Tony Vairelles). Top scorer is Peter Sampil with 11.
Bonnevays' job now is to prevent the break-up of his side, with several players being watched by bigger clubs.
Stade Pierre Brisson (cap. 10 000), route de Clermont 60000 Beauvais (tel. + 33 3 44 05 66 75)
BEAUVAIS, 55 000 inhabitants, main town in the Oise region. Cathedral. Industries include food, engineering, chemical and textiles.
---
MARTIGUES
MARTIGUES, VENICE OF PROVENCE
Martigues are minutes away from glory and the prospect of promotion to D2 after a two season of purgatory in the National. A vital year for the club from Provence, with the risk of losing the professional status at the end of the season in case of non-promotion.
After a sluggish start, Martigues were in 13th place, with elevn points spearating them from leaders Besançon after nine games ! The result was that coach Christian Dalger was shown the door and former player, then Sporting Director Mahmoud Guendouz took over the reins of the club. Since then the club has risen to a position of leader from January onwards. Promotion is back in sight.
At home, Martigues have recorded 11 wins, 5 draws and one defeat, 35 goals scored to 16 conceded. They posess the best strike rate at home, along with Pau, and away from home they have the second best attack behind Grenoble. The leagues' top scorer plays for Martigues, Jacques Rémy (19) and fifth top scorer former Lusitanos striker Jean-Jacques Davezac (13). In the match at Marville, Karim Fellahi earned a point for Red Star in a 1-1 draw at the start of Martigues' great run. Martigues played in D1 from 1993 to 1996, and play in red and yellow, the same as Calais. A famous old boy is Eric Cantona, then on loan from AJ Auxerre, who played against Red Star on the 23rd November 1985, a match won by Martigues 2-1.
Stade Francis Turcan (cap. 11 500), 29, chemin de Paradis, 13500 Martigues (Tel. +33 4 42 80 29 20).
MARTIGUES, town of 45 000 inhabitants, situated close to the Etang de Berre (oil refineries), and a major town of the region Bouches-du-Rhône.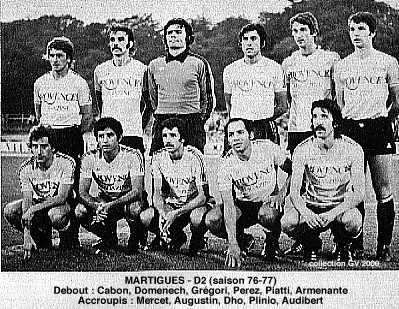 ---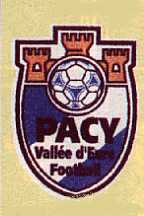 PACY-SUR-EURE
ALMOST VILLAGE GREEN FOOTBALL !
Who better to carry the flag for village football than Pacy-sur-Eure. This commune of less than four thousand souls has been represented by its local football club in the National for two seasons now. With only five games remaining, the team coached by Laurent Hatton is on the verge of safeguarding its place for next season, despite losing the last home match to bottom club Raon l'Etape. Currently lying fifteenth with a seven point lead over Fréjus.
Players include former Red Star 93 reserve and Congo international Maurice N'Tounou, team mate of Camille Oponga and Richard Akiana. Primarily a defender, but also capable of scoring feats, with five goals scored already this season. Other players of note are second choice goalkeeper Roland Loubacky, another player from the Congo, and top scorer Olivier Hameau with thirteen, the total he notched during last seasons campaign.
Despite the small population, on average 1500 crowd into the equally tiny stadium of Pacy-Menilles, route de Pacy 27120 Menilles (Tel. +33 2 32 36 14 29).
Created in 1970, in the space of ten years the club has risen through the leagues - in 1990 the club was still playing its football in the division Promotion d'Honneur.
The home record reads 8 wins, 3 draws and five losses (Red Star have won seven at home, including the 4-1 drubbing of Pacy earlier this season). One ex-Pacy player has changed camps - Aziz Belissaoui, started out at Pacy before progressing to Poissy then to Red Star.
---
PAU
TO THE LAND OF HENRY IV
Pau, primarily a rugby and basketball town is also a footballing town, especially in the Cup, but the club has the modest target of stabilisation in the National. Famous old-boys include Xavier Gravelaine as well as former Red Star player Samuel Boutal, currently plying his trade with Troyes.
After a bright start to the campaign, Pau slumped somewhat until a recent upturn in fortunes lifted them to mid-table respectability. Last outing was a 1-0 defeat at Grenoble. They are currently eighth with 46 points. Top scorer is Baylac with 11. In fifteen home matches the clus has only been beaten twice.
Red Star 93, after the disappointment of defeat on Monday in the league cup will have to lift themselves morally and physically for this one.
Pau, maint town of the Pyrénées-Atlantiques region is 420 miles from Paris and is a town of 90 000 souls with a castle and a university.
---
PARIS FOOTBALL CLUB
Stade de la porte de Montreuil, 36 rue du Docteur Dejeurine 75020 Paris (Tel. +33 1 43 44 14 33).
Capacity : 3 000.
Honours : Cup semi finalists, 1980
DESTIN CROISE
In 1978, Paris FC were promoted into D1 whilst Red Star were wiped off the footballing map.
A little over twenty years later, the two clubs meet again, this time in the National. A Red Star who have for the moment shelved any hopes of promotion back to D2, whilst on the other hand Paris FC who also started the season with high hopes, but now find themselves in a difficult position. From ambitions of D2, playing in the impressive 20 000 seater Charlety Satdium, the club now is staring CFA in the face, and have returned to their home at the Stade de la Porte de Montreuil.
PARIS FC-RED STAR 1978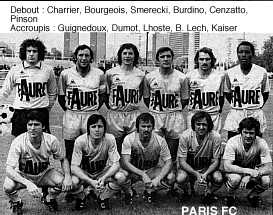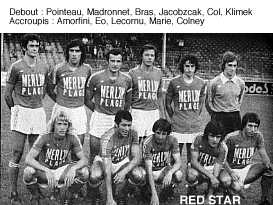 ---

VALENCIENNES-RED STAR 93, SATURDAY 11 MARCH 2000, STADE NUNGESSER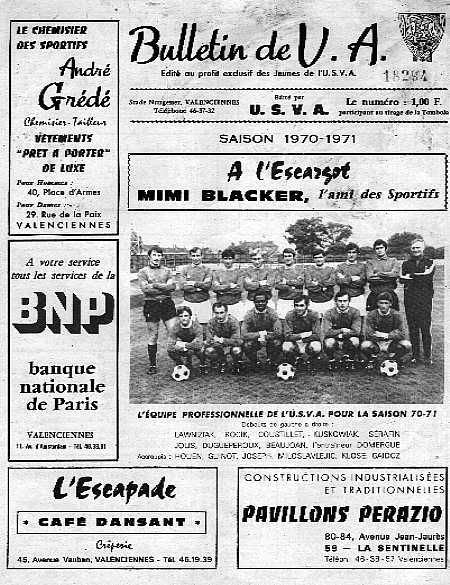 A trip to Valenciennes is rarely a stroll in the park, because the Nordistes are rarely beaten on their home patch.
Last season they looked to be on course for promotion before pulling up in the home straight and finishing fifth. After a sluggish start this season, Valenciennes climbed up to thrid place only to slip back again in recent weeks. Currently sixth, six points behind third placed Besançon. For the men of coach Ludovic Batelli, Saturdays' game is vital, as it is for Red Star following their magnificent win at Grenoble. H. Lachaab (12 goals), but they will be without Anthony Garcia, sent off last Friday.
Stade Nungesser (cap. 11 000), 43 avenue de Reims 59300 Valenciennes (Tel. +33 3 27 46 19 10). VALENCIENNES, 50 000 inhabitants. Industrial centre which since the 1980's has been in a crisis.
Read more about Valenciennes
---

A TRIP TO THE DAUPHINE
GRENOBLE FOOT 38-RED STAR 93 MARCH 7TH 2000

No let up for the Red Star players, after Lyon in the Cup, a trip to the Dauphiné for a rearranged match against Grenoble. A trip which should allow Jean-Marc Branger (photo) to revisit his former stomping grounds as Grenoble was his last club before joining Red Star 93. A promotion season with the club from the Isère before an acrimonious departure.
Grenoble, newly promoted to the National are starting to feel the pressure after a fine start tio the season. A 4-0 thumping at Istres was followed last week by a 4-4 draw with Valenciennes, but the dismissal of goalkeeper Yohan Bouchard in the latter game could explain the defensive frailties. With 36 points, the side coached by Alain Michel are two points ahead of their visitors.
If the defence is a weak point, then it is balanced by the second bets strike force in the league, behing Martigues. Forty two goals have been scored, and former Evry man Claude Bakadal counts thirteen of these. Meanwhile Red Stars' attack is quite the opposite - other then in cup matches Red Star have failed to find the net in 2000, five matches. Eventually this should come to end, and why not tonight. In the match earlier this season, Red Star won the game 2-1, Mamoum and Fellahi scoring at the end of the game.

Stade Les Diguières, cours Jean Jaurès 38100 Grenoble.
GRENOBLE, main town in Isère, 180 000 inhabitants. Site of the 1968 winter Olympics.
Internet Site : www.multimania.com/gu95
---
CLUB SPORTIF DES CHEMINOTS THOUARSAIS
Founded : 1929
Stade du Grand Bournais, Route de Launay 79100 Thouars. Capacity : 2 000.
Tel. +33 5 49 66 16 84
14th in the National last season, Thouars are coached by Thierry Goudet, former professional player with Laval, Brest, Rennes, Le Havre. At the club since July 1997.

Red Star 93 meet one of the Nationals' cup specialists on Saturday - this season they eliminated Nancy, then lost in the next round 2-1 to Monaco at Angers in front of 15 000 spectators. Last season PSG struggled to overcome the battlers from the Deux-Sevres region. In the league, Thouars are somewhat of a draw specialist, with twelve so dar this season, but have only been beaten once at home.
Currently lying in fourteenth place, three points behinf Red Star but having played a game more. The aim is to avoid the drop, preferably without having to wait until the last game of the season to do so !
Last Friday in a derby match against Angers, Thouars lost deep into injury time, with also having lost two players sent off during the encounter - Guillaume Debaud and Xavier Dudoit.
This is the first time that Red Star have played at Thouars, and earlier in the season, the visitors equalised in the 97th minute at Marville to earn a 2-2 draw.
---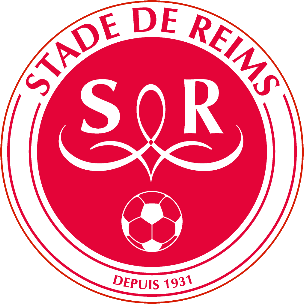 STADE DE REIMS
Founded 1931
Stade Auguste Delaune, chaussée Bocquaine, 51100 Reims.
In June 1931, the football section of the Société Sportive du Parc Pommery became Stade de Reims.
1935 - Stade de Reims adopt proffesionalism and takes part in division two.
1938 - merger with Sporting Club Rémois, and the club colours become red and white.
Post-1914-18 war, famous players are Louis Finot and Albert Batteux who later play a part in the Reims glory years.
After the second world war, Reims achieve promotion and in 1945-46 finish fourth. In 1949 their first ever league championship with Paul Sinibaldi, Jacowski, Jonquet, Marche, Penverne, Petitfils, Batteux, Prouff, Bini, Pierre Sinibaldi, Flamion. Reims becomes the leading club in France, heirs to Lille and Racing.
14th May 1950, in from of 61722 spectators, at Stade Yves du Manoir, Colombes with ten minutes remaining, two goals in two minutes from Meano and Petitfils give Reims a famous cup win. After the final, Albert Batteux is named as coach by president Henri Germain. One of the first recruits, from SCO Angers is Raymond Kopaczewski, better known as Kopa.
1952-53 a second championship, but in June the young Francis Méano is killed. A stand was erected in his name.
1954-55, a third title, despite losing the services of Marche and Appel, but bolstered by the arrivals of Leblond and Bliard, top scorer int the championship. The title allowed Reims to compete in the inaugural European Cup, and amazingly reach the final, only to lose 4-3 to Real Madrid in Paris. Reims finish tenth next term, Kopa quits the club for Madrid, but in come Hidalgo, Juste Fontaine and Jean Vincent, then one year later Roger Piantoni and Dominique Colonna.
A cup and league double is achieved, the cup won 3-1 against Nîmes 3-1 (Bliard 2, Fontaine).
Several Reims players represent their country, which finished third in the Sweden World Cup finals, and Just Fontaine achieved the double of top scorer in the league as well as the World Cup.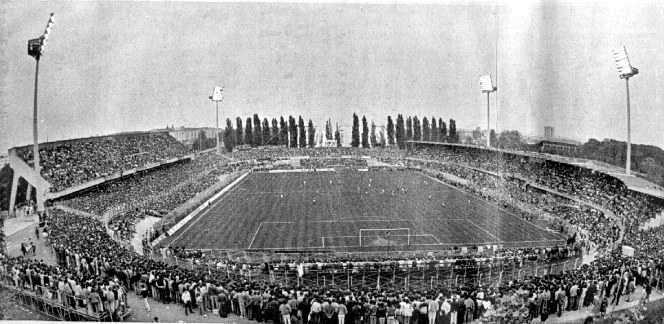 Another European Cup final, lost 2-0 against Real Madrid again, starring Di Stéfano, Gento... and Kopa.
More league glory follows, but so does the end of the career of Just Fontaine, crippled through injury. The departure of Batteux for Saint-Etienne, the relegation to D2 in 1965. Promoted the season after, a cup final appearance in 1977 losing 2-1 to Saint-Etienne.
In 1978 president Bazelaire annonces that the club is in financial difficulty, and in 1991 the club folds. Reims becomes Stade de Reims-Champagne and start again in the DH before climbing back to the National, thanks to a last-minute refusal of Pontivy, who had incidentally beaten Reims in the play-offs
Reims are holding their own in the championship, but a major failing is the old Stade Auguste Delaune, where some of the stands are closed off to the public. Earlier this season at Marville, the two sides drew 1-1.
REIMS, main town in the department of Marne, around 200 000 inhabitants. Cathedral, a Gothic masterpiece from the XIIIth century. Champagne capital of the world.
REIMS - RED STAR IN THE CHAMPIONSHIP
38-39 (D2) : REIMS - RED STAR : 0-1
40-41 (D1) : REIMS - RED STAR : 1-1
41-42 (D1) : REIMS - RED STAR : 2-0
45-46 (D1) : REIMS - RED STAR : 4-0
46-47 (D1) : REIMS - RED STAR : 1-0
47-48 (D1) : REIMS - RED STAR : 1-0
64-65 (D2) : REIMS - RED STAR : 2-3
70-71 (D1) : REIMS - RED STAR : 0-1
71-72 (D1) : REIMS - RED STAR : 0-1
72-73 (D1) : REIMS - RED STAR : 3-0
74-75 (D1) : REIMS - RED STAR : 1-1
80-81 (D3) : REIMS - RED STAR : 1-1
82-83 (D2) : REIMS - RED STAR : 5-0
83-84 (D2) : REIMS - RED STAR : 4-2
84-85 (D2) : REIMS - RED STAR : 3-1
86-87 (D2) : REIMS - RED STAR : 4-1
87-88 (D3) : REIMS - RED STAR : 0-0
90-91 (D2) : REIMS - RED STAR : 1-1
---
ASSOCIATION SPORTIVE DE SAINT-ETIENNE

Colors: Green shirts, white shorts
Stadium : Geoffroy-Guichard, 14 rue Paul-et-Pierre-Guichard, 42028 Saint-Etienne
Tel. +33 4 77 92 31 70
Site internet : www.asse.fr
Capacity : 36 000
Budget : 150 MF
President : Alain Bompard
President deputy : Gérard Soler (former international)
Last season : D2 champions
Champion de France 10 times
50th season in D1, 1812 matches in D1

Squad 1999-2000
Goalkeepers : Jérôme Alonzo, Jérémie Janot, Philippe Montanier
Defence :Romarin Billong, David Grondin, Patrick Guillou, Stéphane Hernandez, Francis Llacer Lucien Mettomo*, Mickaël Pontal, Lionel Potillon, Jean-Guy Wallemme
Midfield : Fabien Boudarène, Bruno Carotti Bertrand Fayolle, Kader Ferhaoui, Tchiressouao Guel*, Stéphane Pedron, Julien Sablé, Pape Sarr*.
Attack : José Aloisio Da Silva, Loic Chaveriat, Alex Dias, Yann Dobo, Patrick Revelles, Nestor Subiat.
* the three players are currently on international duty in the African Nations' Cup 2000.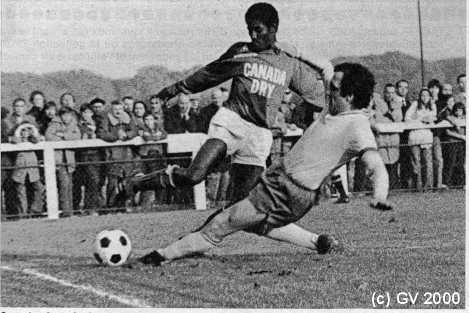 Coach : Robert Nouzaret, born 29th Sept 1943 in Marseille. Former player who has served Lyon, Bordeaux, Montpellier, Gueugnon, palyer coach of Orléans, coach at Montpellier, Saint-Dié, Lyon, manager of Montpellier, national coach to the Ivory Coast.
Coach of A.S.S.E. since 1998, he took over the reins from Pierre Repellini.
See photo : Nouzaret (right) playing for Gueugnon
Saint-Etienne are currently : 7th with 29 points. Scorers : Alex (12), Aloisio & Pédron (6) Patrick Guillou palyed at Red Star 93 (96-97). Coupe de la Ligue, in the previous round at home Saint-Etienne beat Nantes 3-1. Last Saturday les Verts needed extra time to beat Grenoble (National) : 2-1 in Coupe de France.
SAINT-ETIENNE: A POTTED HISTORY
---
Saturday 22nd January 2000, 3pm CET, Stade municipal de Saint-Leu-la-Forêt, Boulevard Brémont, 95320 Saint-Leu-la-Forêt (Tel. +33 1 34 18 00 69)
LEVALLOIS - RED STAR (32ème de finale de la Coupe de France)
For the first time since 1940, a Levallois club has reached the 1/32 stage of the cup. The current club is in CFA2 in the same group as Red Star reserves. The storms of December meant that the two clubs have yet to clash in the league. Last season, the team from the Hauts-de-Seine were in a different group to Red Star, and finished twelfth. A different story this term as Levallois at one time topped the group.
Last Saturday, Levallois beat Reims reserves 2-0, but lost prior to that at Tourcoing. Three points behind the leaders Marly and Béthune, with a remarkable cup run to boot. Victorious 5-4 on penalties after a 0-0 draw with Cherbourg from one division higher, then a 2-0 win over Saint-Dizier also in CFA2. Players include Casas, Ghedjemis, Gérard, Ratsimbazasy, Robinet, Buissard, Mahobah, Doceul, Himmer, Sabir, Taine, Sebti, Schneeberger, Seychelles. The marksman, with fifteen goals in all competitions is Cédric Sebti.
The Stade Louison Bobet, just at the side of the Paris Peripherique motorway is not of a sufficient standard to accomodate the match against Red Star, therefor the match will be played at Saint-Leu, about eight miles from the city centre of Paris.
Other than football, the town of Levallois is famous for basketball, table tennis, judo, boxing and fencing.

Record of Levallois clubs in the Cup
Football Etoile Club de Levallois : 1/4 (1923), 1/8 (1920), 16ème (1921,1922,1927), 32ème (1924, 1925, 1926,1928).
Football Club de Levallois : 16ème (1940
Jeanne d'Arc de Levallois : 32ème (1920)


Other than Pierre Chayriguès, the famous goalkeeper, there have been several international players who have started out at Levallois; Lucien Letailleur and Marcel Triboulet (F.E.C. Levallois), Gaston Barreau (F.E.C. Levallois), Alfred Compyrat (J.A. Levallois), Maurice Gastiger (F.E.C. Levallois), Raymond Gouin (J.A. Levallois), Victor Hitzel (J.A. Levallois), André Rollet (F.E.C. Levallois), Alex Thépot (F.E.C. Levallois / Red Star).
G. Valck
WEDNESDAY 12th JANUARY 2000, 8pm CET at ANGERS:
ANGERS - RED STAR 93
Stade Jean Bouin, Boulevard Pierre de Coubertin 49000 Angers (Tel. +33 2 41 47 46 09), capacity 17000 places.

On Wednesday, third place in the National is up for grabs. With Saturdays' results going Red Stars' way, a victory at Angers will move them into the top three, behind Beauvais & Besançon. Just two points separate Angers and Red Star, but the home side still have a gale in hand, against Besançon). Earlier this season Angers beat Red Star 1-0 at Marville, but the Red Star of that day will be vastly different from Wednesdays' line up. In addition, the two hours of the Nîmes games could still be in the legs of the Red Star players.
Angers is a footballing town which regularly sees 2000 spectators for the matches. At home the record reads P9 W6 D1 L2 F17 A9. Last outing was a 2-1 defeat to Valenciennes, but ex-Red Star player Alain Gunia was out through injury. Famous ex-Angers players are : Raymond Kopa, Simonyi, Biancheri, Deloffre, Dogliani, Guillou, Berdoll, Lecornu, Amisse ...
Other than a third place in division one in 1966-67, Angers took part in a goal spree cup final in 1957, losing 3-6 to Toulouse.

ANGERS main town of the region Maine-et-Loire (150000 inhabitants). Cathedral, the château of the Counts of Anjou, rebuilt under Saint-Louis. Commercial and industrial center as well as being a university town
---
Thursday 30th December 1999 7pm CET, Stade Duvauchelle (Créteil)
CRETEIL - RED STAR 93 (Friendly)
By G. Valck
Founded 1937. Stade Dominique Duvauchelle, named after a sports journalist killed in a road traffic accident. (cap. 10000)
Chemin des Bassins 94000 Créteil. Tél. +33 1 43 99 27 58.
US Créteil are back in Division Two this season after a ten year absence.
During season 87-88, Créteil and Red Star 93 fought out a battle in Division Three right up to the last minute, to gain promotion to Division Two.
With their return to D2, Créteil are on paper Paris' second club. Currently thirteenth in the league, along with Châteauroux (seven wins, six draws and nine losses)
At the begninning of Autumn, a mini-crisis hit the club resulting in the departure of coach Bernard Simondi. He was replaced by Gernot Rohr who once again links up with his former president at Bordeaux, optical shop magnate Alain Afflelou, now president of Créteil.
Other than the championship, the club from the Val-de-Marne are through to the next round of the League Cup, with a tasty trip to the Parc des Princes to face Paris Saint-Germain.
In the Coupe de France, the Cristoliens eliminated Beauvais 2-0 in the eighth round.
Back in D2, several players have been recruited to strengthen the side - Bancarel (FC Sion), Bouafia (Lorient), Duchesne (Istres), Escayol (Le Mans), Héréson (out of contract, formerly at Caen, Lens, Paris SG, Laval). Add to this list Sankharé, Calabuig, Eyraud, Histilloles, Huysman, Le Frapper, Traoré, Castro and former Red Star player Cédric Fontaine (91-93).
Among the players leaving at the end of last season, Stéphane Blondeau, who was at Saint-Ouen from 1994-96).
The aim of the clubs president is to stabilise the club in D2 before pushing for the big time, including modernising the Stade Duvauchelle.
This friendly will be a good test for the two clubs before theire respective ties in the League Cup next weekend.

Créteil have an indifferent home form, four wins, four defeats and two draws, but their strong point had to be Anthony Bancarel (6 goals) and a " joker " de luxe Laurent Castro, master of the dead ball situation and scorer in the recent win over league leaders Lille.
HEAD TO HEAD IN COMPETITIVE MATCHES :
DIVISION 3

1987-1988 : RED STAR 93 - CRETEIL : 2-0
1987-1988 : CRETEIL - RED STAR 93 : 1-1

DIVISION 2

1990-1991 : CRETEIL - RED STAR 93 : 0-2
1990-1991 : RED STAR 93 - CRETEIL : 0-0
---
SATURDAY 4TH DECEMBER AT AJACCIO (CORSICA)
AJACCIO, A TRIP TO THE BEAUTIFUL ISLAND OF CORSICA
By G. Valck
GFCO Ajaccio, the second club of Ajaccio went through incertitude at the end of last season. On the field the club had won its place in division two, but were prevented from taking their place by an ancient rule of the Ligue National de Football. The famous law preventing two clubs of a town with less than 100 000 inhabitants from having two clubs in D2 effectively ruined the start of this season. Ajaccio kicked off aftee the othe clubs, witha team stripped of its best players and having to play theur first two matches away from home due to incidents at a previous match. The exodus of stars included Van Kets (Racing CP), top scorer with 19 goals, Pagis (Nîmes), 17 goals, the retirement of Pascal Olméta and a change of coach to Buisset from Cavalli. A chaotic summer in Corsica.
The weak point of Ajaccio is its' inability to score, the worst attack in the National.
The main aim this season is to avoid the drop, no mean feat.
Stade Ange Casanova (capacity 10000), 20167 Mezziava. (Tel +33 4 95 20 10 16).
AJACCIO, capital of the region Corse-du-Sud, 60000 inhabitants. A beautful resort well worth a visit. Napoléons' museum is located here.
---
SATURDAY 27TH NOVEMBER, 7PM CET AT TOURCOING
COUPE DE FRANCE 7TH ROUND: OLYMPIQUE MARCQ-EN-BAROEUL - RED STAR 93
By G. Valck
Olympique Marcquois play in the championship " promotion d'honneur " of the regional league Nord (groupe B). Despite their outstanding cup form, their league form has been somewhat mediocre, a return of two draws and two losses from their last four games played. Last outing was a one-all draw at home to one of Lilles' reserve sides.
Olympique Marcquois reached the 1/32 final in 1992, receiving a home drubbing by Saint-Omer 4-0.
Because the ground at Marcq is not of a high enough standard for this level of competition, the match will take place at Tourcoing.
Patrice Lecornu, reserve team boss of Red Star and a regular with his team at Tourcoing, said "A true football ground, with the crowd close to the action, and the pitch is in good shape".
Pierre Repellini has been clued-up on Marcq-en-Baroeul. He said "A large number of their squad are youth products of the regions' big clubs, such as Lille and Lens.". Since the draw was made, the players of Marcq have had only one thing in mind, their " mini-cup final " their highlight of the season. Red Star had beeter look out, the crowd will be firmly behind the minnows on Saturday.
MARCQ-EN-BAROEUL is a town in the département of Nord (40 000 souls), situated midway 'twixt Lille and Tourcoing. Industries include textiles and the food industry. Tourcoing is a much larger town of 100 000 souls, and the local team once reached the cup semi-finals in 1921. Champion of France with the association Roubaix-Tourcoing in 1947
---
SATURDAY 20th NOVEMBER, 6pm CET AT NOISY-LE-SEC
OLYMPIQUE NOISY-LE-SEC BANLIEUE 93 - THE ENDLESS MIRACLE
By G. Valck
The success of Noisy-le-Sec in some part could be down to one family - the Sandjaks, who have been in control of this club for several years. The club has risen from the Parisian district leagues in 1981 to the heady heights of the National.
Last season, Noisy-le-Sec had a good run, and for a long peroid were in amongst the front runners before slipping away at the end, nevertheless achieving a honourable sixth spot. Top scorer was Robert, with eleven goals. The aims of the season are to enjoy a similar sucess. After a good start, Noisy lost ground a little and are currently in tenth spot. The fine start was down to a solid defence, and recently this has shown signs of recovery with two fine wins over Angers and Grenoble last Friday, the latter unbeaten at home for over one year.
Nasser Sandjak, coach was born in Paris on the 28th September 1960 and served Romainville, Châtillon and Noisy-le-Sec from 1982 to 1994 as player before taking up the reins as coach in July 1995. He is assisted by Rachid Sandjak et Kamel Bouallak. The overall boss is yet another Sandjak, the mediatic Jamel Sandjak. In the squad are two other Sandjaks, Lounis and Liazid, a former professional player with Paris SG, Nice and in Switzerland.
During the inter-season, four players left and eight joined the ranks, amonst them Franck Emery, former Red Star reserve team player, and Mustapha Lablack from Aubervilliers but a product of the Red Star 93 school. Former Noisy players who have gone on to bigger things include Bakari (Lille), A. Ba (Louhans-Cuiseaux)... Emmanuel Souloy with four is this seasons' top scoere.
At home Noisy are an awkward proposition, eand so far have managed four wins, two draws to one defeat, to Pacy-sur-Eure 1-0. A ninety minute concentrated performance will be the order of the day for Red Star.
Stade Salvador Allende, 6 bis rue de Neuilly 93170 Noisy-le-Sec. (Tel. +33 1 49 15 97 50).
How to get there : take the new RER line E, the Météor at Saint-Lazare (assuming that they're not on strike !) and get off at Noisy-le-Sec. Then there's a fifteen minute hike to the ground.
Noisy-le-Sec is an industrial town of 40 000 souls in the suburbs to the east of central Paris.
---

LEAGUE CUP (1st round)
MONDAY 16th NOVEMBER 8PM CET AT LILLE
LILLE - RED STAR 93
LOSC LILLE METROPOLE
Founded : 1944
Colours : White, red & blue
Stade Grimonprez-Jooris, allée du petit Paradis 59800 Lille. (Tel. +33 3 20 12 82 92).
Capacity : 16000 places.
Honours : Championnat de France : 1946; Coupe de France : 1946, 1947, 1948, 1953 & 1955
Season 1998-1999 : 4th, Division Two
Eliminated at the 1/8th stage of the Coupe de France by Guingamp (1-0) and at the first round stage of the League Cup by Louhans-Cuiseaux (National) : 1-0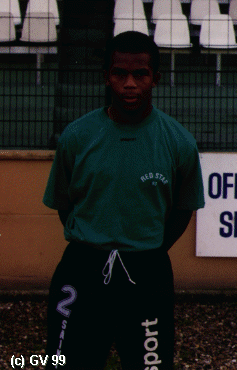 Coach : Vahid Halilhodzic. Ex-centre forward of Velez-Mostar, FC Nantes & Paris SG. Top scorer in French championship in 1983 (27) & 1985 (28). Champion de France with Nantes. Coached Beauvais, Raja Casablanca and Lille since September 1998.
Assistant : Jean-Pierre Mottet (ex-goalkeeper)
Key players 1999-2000 : Grégory Wimbée, Frédéric Viseux, Abdelilah Fahmi, Pascal Cygan, Ted Agasson (see photo), Bruno Cheyrou, Carl Tourenne, Patrick Collot, Fernando D'Amico, Dagui Bakari, Jean-Louis Valois, Djezon Boutoille, Rudy Giublesi, Laurent Peyrelade.
Top scorers : Boutoille (7), Agasson & Peyrelade (4).
LILLE, A CLUB WITH A PAST AND A FUTURE
Older Red Star supporters will associate Lille with the 1946 Cup Final.
Colombes, packed to the rafters (59642 spectators), on the 26th May 1946 for the first real post-war final. In 1945, Racing had beaten Lille 3-0, just two days before the surrender of nazi Germany.
Red Stars' path to the final had taken them to victories over Tourcoing (4-2), Charentes (5-2), Cannes (3-1), Lyon (2-0), Stade Français at Lille 3-2, where a ninetieth minute goal had won the match for Red Star. As for Lille, AS Raismoise (3-0), Nancy (3-2), Rouen (1-0), RC Paris (2-1) and Stade Clermontois (7-1) at Colombes had all been duly despatched.
LOSC had an ex-Audonien in their ranks, goalkeeper Georges Hatz as well as another who had played virtually all his career at Saint-Ouen, Roger Vandooren. For Red Star, André Simonyi started his career in France with Lille before the war and Robert Germain was to go on to win the cup two years later with the Nordists. Red Star had three survivors from the 1942 cup triumph, Aston, Simonyi and Bersoullé.
Straight from the kick-off Lille dominated and opened the scoring after thirteen minutes through Tempowski, latching on to a pass from Jean Lechantre. Incidentally, his son, Pierre Lechantre played for Red Star in the 1980's. In the twenty-fourth minute, Red Star 'keeper Germain could only parry a shot by Vandooren into the path of Bihel, who doubled Lille's advantage. Half time, 2-0.
Two minutes after the break and Moulet brought Red Star back into the game, Hatz failing to hold on to a volley from Aston. The comback was to be brief, however, as four minutes later, Lechantre crossed and Vandooren notched the third goal. Red Star again fought back and Lucien Leduc nodded home a Simonyi corner in the sixty-ninth minute, only for Vandooren to seal the victory with his second and Lilles' fourth in the last minute.
Two firsts - the first lost final for Red Star and the first win for Lille. For the first time in thirteen years, the cup was heading north. In 1933 Excelsior de Roubaix, had been the last northern club to lift the trophy. This was to be Lilles' year, and the title of Champions of France ment that Lille became only the third club, after Séte in 1934 and Racing C.P. in 1936 to have completed a league and cup double.
Jules Bigot missed the final, but his deputy, Marceau Sommerlynck went on to win five cups with Lille. Since then, only Dominique Bathenay has equalled this feat, but with two clubs - Saint-Etienne (3) and Paris SG (2). Defeat for Red Star ended the Saint-Ouen clubs' domination of the cup competition. Several months later at the Parc des Princes, however, Red Star had their revenge over the Dogues, handing out 5-1 thrashing. In the magazine But, Lucien Gamblin, former captain of Red Star and three times cup winner (1921/22/23) , then editor, wrote alongside a headlining photo of Campiglia (Lille) and Bersoullé - Proust (Red Star) : "Lille slip whilst Red Star step on the gas."
Since 1946 the two clubs have never met in any cup competition. In the league, thirty one matches have been played, with two more in D3 between Red Star and the Lille reserve team. The last two trips to Grimonprez-Jooris have been far from favourable to Red Star with two defeats 4-1 & 2-0. On paper, Lille start as favourites, especially when taking into account their storming start to the season. But, in the cup there will always be surprises, suchas happened last year when Louhans-Cuiseaux k-o'd Lille in the League Cup 1-0.
Will Lille take the match seriously ? The main aim of the season has to be promotion to division one, and to achieve this the club have brought in some big signings, including former Red Star favourite Ted Kelton Agasson. For several years Ted wore the green shirt from the under-17's to the first team, right up until the end of last season.
Ted spoke exclusively to this site earlier on this season at Marville, and professed that his dream is to play in division one, especially alongside former " classmate " Steve Marlet.
Having seen Lilles' performance at Créteil there remains hope for Red Star. Despite receiveing his marching orders at Créteil. Ted Agasson will be back from suspension, there being two more rounds of division two matches before the cup clash. In going down to their second successive defeat in the Paris suburbs on Saturday, Lille showed a certain lack of form, dropping back into a defensive game, allowing Créteil to come at them which eventually resulted in defeat. Notable performances came from Pascal Cygan, a six foot two inch tower, and also from ex-under-21 international Boutoille, by far the most dangerous striker on view Saturday. The two losses means that Lille must concentrate more than ever on the league.
Over one game, Red Star 93, if they can avoiding caving in to Lilles' game, are capable of pulling off an escapade in the North.