HALL OF FAME RED STAR 93
---
Born Frage, Portugal, 8th January 1959
Defender
Clubs : Red Star (1977-1978), Reims, Paris S.G., Nancy, Braga (Portugal), Quimper. A defender who started out on his professional career far from his native Portugal, with Red Star. Unfortunately as he started, so Red Star went through one of the blackest periods in their history with the liquidation of the club. Abreu went on to fulfil his career, in particular with the PSG in Division One. Following the path to be a coach, he took once mighty Reims from the obscurity of the CFA 2 back to the National.
Born La Guêpie, 8th December 1944
Midfield
Clubs : Toulouse, Red Star (1967-1972), Cannes, Fréjus.
Considered as one of the best midfielders in France at the time, he joined Red Star with the meger of Red Star-Toulouse. A student-footballer really kick-started his career with Red Star. In five seasons, he found the net on twenty-five occasions and was club top scorer season 1970-71.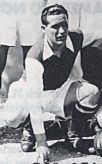 Born Chantilly, 16th May 1912
International (31 caps)
Winger
Clubs : Chantilly, Red Star (1932-1938), RC Paris, Red Star (1939-1946), Angers, Stade Français. One of the best French footballers of the pre-war years. Tricky winger with a ability to turn defenders inside out, a real marvel for the public. Older Red Star supporters still recall his partnership with André Simonyi. He signed his first professional contract for the princely sum of 500 F in 1932, and from the outset was selected to represent the city of Paris, even winning the Kentish Challenge Trophy in 1934. Capped thirty one times for his country, he represented Continental Europe in a match against England in 1938. Eleven years as player of Red Star, he first left to play for Angers in 1946-7 alongside Simonyi before returning to Paris with Stade Français who had just merged with Red Star. Cup winner in 1942, he later received a runners-up medal in 1946. Through twelve years he represented his country, participating in two World Cups in 1934 and 1938 in France. In 1944, playing for France against Belgium he scored his last goal for his country in a brilliant win over England at Colombes in front of 60 000 spectators. Astons' father was English, so who knows, Alfred could even have represented England. International :
11/3/34 : FRANCE - SWITZERLAND : 0-1
25/3/34 : FRANCE - CZECHOSLOVAKIA : 1-2
15/4/34 : LUXEMBOURG - FRANCE : 1-6 (6th minute - goal)
10/5/34 : FRANCE - HOLLAND : 4-5
27/5/34 : FRANCE - ITALY : 2-3 aet, World Cup, Turin
17/2/35 : ITALY - FRANCE : 2-1
17/3/35 : FRANCE - GERMANY : 1-3
14/4/35 : BELGIUM - FRANCE : 1-1
19/5/35 : FRANCE - HUNGARY : 2-0
27/10/35 : SWITZERLAND - FRANCE : 2-1
12/1/36 : FRANCE - HOLLAND : 1-6
13/12/36 : FRANCE - YUGOSLAVIA : 1-0
23/5/37 : FRANCE - EIRE : 0-2
24/3/38 : FRANCE - BULGARIA : 6-1 29th & 52nd minute goals
26/5/38 : FRANCE - ENGLAND : 2-4
5/6/38 : FRANCE - BELGIUM : 3-1 World Cup, Colombes
12/6/38 : FRANCE - ITALY : 1-3 World Cup, Colombes
4/12/38 : ITALY - FRANCE : 1-0
22/1/39 : FRANCE - POLAND : 4-0
16/3/39 : FRANCE - HUNGARY : 2-2
8/3/42 : FRANCE - SWITZERLAND : 0-2
15/3/42 : SPAIN - FRANCE : 4-0
24/12/44 : FRANCE - BELGIUM : 3-1 79th minute goal
8/4/45 : SWITZERLAND - FRANCE : 1-0
26/5/45 ENGLAND - FRANCE : 2-2
6/12/45 : AUSTRIA - FRANCE : 4-1
15/12/45 : BELGIUM - FRANCE : 2-1 77th minute goal
7/4/46 : FRANCE - CZECHOSLOVAKIA : 3-0
14/4/46 : PORTUGAL - FRANCE : 2-1
5/5/46 : FRANCE -AUSTRIA : 3-1
19/5/46 FRANCE - ENGLAND : 2-1