HALL OF FAME ALLEZREDSTAR.COM
---
Born 19th Novembre 1940 at Fismes
Defender
Clubs : Melun, Stade Français, Béziers, Red Star (1969-1971), Angoulême.
Bacquet was capable of playing a central rôle or out wide. A serious and conscientious player who proved himself invaluable to sides struggling against relegation. Following his playing days he embarked upon a coaching career.
Born Alger, 20th August 1942
International (8 caps)
Defender
Clubs : Cannes, Monaco, Red Star (1968-1969), Lyon and Cannes. This rugged defender was the last to represent his country. Whilst playing for Red Star he was selected twice, the first West Germany at Marseille during the reconstruction of the Parc des Princes. He played until the 67th minute, when substituted by Roger Lemerre (later to be Red Star coach, 1975-78 & 1985-86 and currently national coach). His second cap came against Spain. After leaving Saint-Ouen, he received a Cup runners-up medal, losing the final in 1971 to Rennes whilst playing for Lyon. International :
17/9/67 : POLAND - FRANCE : 1-4
27/9/67 : WEST GERMANY - FRANCE : 5-1
28/10/67 : FRANCE - BELGIUM : 1-1
23/12/67 : FRANCE - LUXEMBOURG : 3-1
6/4/68 : FRANCE - YUGOSLAVIA : 1-1
24/4/68 : YUGOSLAVIA - FRANCE : 5-1
25/9/68 : FRANCE - WEST GERMANY : 1-1 (subbed 67th minute by Lemerre)
17/10/68 : FRANCE - SPAIN : 1-3

Born Saint-Maur, 23rd May 1895
International (1 cap)
Half-back
Clubs : VGA Saint-Maur, AS Française, Olympique, Red Star (1926-1928), RC Paris.
Paul Baron player, but coach as well. Came into the spotlight whilst playing for Olympique. With Red Star, he won the Coupe de France 1928 before becoming coach several years later (1934-1935). With Racing, he also won the Coupe de France as coach, and during the 1950's was named as coach to the national team. International:
22/4/23 FRANCE 2 SWITZERLAND 2
Born Boissezon, 27th January 1932
International (22 caps)
Goalkeeper
Clubs : Bordeaux, Sedan, Nîmes, Saint-Etienne, Red Star (1967-1969). Pierre Bernard, French national goalkeeper from December 1963 to March 1965 was an outstanding goalkeeper who won two French championships with Saint-Etienne in 1963-1964, alongside Robert Herbin (manager of Red Star 1991-1994). and again in 1966-1967 with Herbin and Aimé Jacquet. Cup winner with Sedan in 1961 against Nîmes, of whom he was later to wear the colours.
He started his career in 1953 at Bordeaux, moving on to Saint-Ouen in 1967 following the unlikely merger of Red Star and Toulouse. At the age of 35 he was without a doubt still the best 'keeper in France, having lost none of his agility despite being rather small as goalkeepers go (1m75). However, a falling out with then national coach Guérin led to a split with the French team. Together with Christian Laudu (his deputy, later his successor), Red Star had a superb pair of goalkeepers.
His biggest regret was never to have participated in the World Cup finals. He was the unfortunate goalkeeper in an elimination match in Italy in December 1961 against Bulgaria, but ended up on the losing side, 0-1. In fact he started his international career against the same country, in a World Cup qualifier and played alongside record goalscorer in a World Cup Finals, Just Fontaine. International :
11/12/60 : FRANCE - BULGARIA : 3-0
15/3/61 : FRANCE - BELGIUM : 1-1
2/4/61 : SPAIN - FRANCE 2-0 (subbed 46th minute by Colonna)
28/9/61 : FRANCE - FINLAND : 5-1
18/10/61 : BELGIUM - FRANCE : 3-0
12/11/61 : BULGARIA - FRANCE : 1-0
10/12/61 : FRANCE - SPAIN : 1-1
16/12/61 : FRANCE -BULGARIA : 0-1 Milan, World Cup elimination match
11/4/62 : FRANCE - POLAND : 1-3
3/10/62 : ENGLAND-FRANCE : 1-1
11/11/62 : FRANCE - HUNGARY : 2-3
9/1/63 : SPAIN - FRANCE : 0-0
27/2/63 : FRANCE - ENGLAND : 5-2
17/4/63 : HOLLAND - FRANCE : 1-0
29/9/63 : BULGARIA - FRANCE : 1-0
26/10/63 : FRANCE-BULGARIA : 3-1
11/11/63 : FRANCE - SWITZERLAND : 2-2
25/12/63 : FRANCE - BELGIUM : 1-2
25/4/64 : FRANCE - HUNGARY : 1-3
23/5/64 : HUNGARY - FRANCE : 1-2
24/3/65 : FRANCE - AUSTRIA : 1-2(subbed 46th minute by Aubour)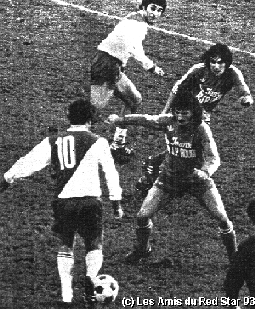 Born Paris, 6th April 1949
Midfield
Clubs : CA Montreuil, Red Star (1968-1975), Lille, Tours, Saint-Raphaël.
Parisien born and bred formed an intergral part of the Red Star midfield during the clubs longest spell in D1. He was finished his career as a defender at Tours, still in D1.
Photo : D1 in 1975, Red Star-Monaco (3-0), Serge Besnard (dark shirt)
Born Marseille, 11th August 1967
Centre-forward
Clubs : Marseille, Martigues, Créteil, Orléans, Amiens, Laval, Sedan, Nancy, Nîmes, Red Star (1998-1999), Endoume
. The typical division two centre-forward, a journeyman sought-after by many clubs, but his short stint at Red Star turned out to be something of a disappointment. Normally saved up his best performances when playing against Red Star.
Born Saint-Brieuc, 21st May 1963
Goalkeeper
Clubs : INF Vichy, Rennes, Avignon, Alés, Red Star 93 (1992-1994), Mulhouse.
A Breton who for two seasons helped the club produce some fine results. Team captain, he knew how to motivate his men. At Mulhouse became coiach before leaving to join Henri Michel in Morocco, taking up the post of goalkeeping coach to the national team.
Born Bordeaux, 22nd November 1969
Midfield / Centre-forwards
Clubs : SBUC, Bordeaux, Villenave, Red Star 93 (1994-1997), Caen, Troyes.
Youth product of the Girondins, Samuel Boutal has experienced many twists and turns during his playing career. From Pau and division three to this seasons' spell in the top flight with newly-promoted Troyes. Of his spell at Red Star 93, one remembers a conpetitive player, with a good heading game and of an on-field partnership with Steve Marlet. He was top scorer in 1994-95 with fourteen goals. In total he scored twenty four times in the championship in the green shirt. After a brief spell at Caen he nows finds himself rubbing shoulders with the elite. Especially neighbours Auxerre, where in November his goal gave Troyes their first away wing of the season.

Born Montigny, 26th March 1921
International (1 cap)
Defender
Clubs : Metz, Red Star (1941-1942), Besançon, Metz. If not for his lack of pace, Gabriel Braun would have accumulated more than his tally of one cap for the national side. His personal moment of glory came when Red Star won their fifth French Cup in 1942, beating Sète. International :
15/12/45 : BELGIUM 2 FRANCE 1
Born Marigot 13th February 1963
Winger
Clubs : Saint-Denis, Red Star (1980-1984), Racing Paris 1, Rennes, Créteil, Ancenis, Le Mans, Créteil
Amateur international, Jean-Michel Bridier was often in outstanding form at Stade Bauer, and played a key role in the rebirth of the club from the D4 to D2. His moment of glory was a superb goal at Nantes, then in D3, which effectively lifted Red Star back into the second division, four years after liquidation. Top goalscorer for the club 1983-84 (9 goals). Took part in the adventures of Racing Matra. Currently youth team coach at Créteil.
Born 18th January 1894 in Paris, died 28th February 1973.
Midfielder, winner of the Coupe de France 1921, 1923 & 1928,
Capped six times for France (3 goals).
Played for : CA Société Générale & Red Star
« Had it not been for the Great War of 1914-1918, Brouzes would no doubt have worn more often the colours of his country.
He had already represented his country, against Budapest in Hungary, before the age of twenty. Fourteen yeasr later, he was still sending inch-perfect passes to his team mates depite playing against the likes of England, Portugal, Czechoslovakia and Italy. Won the Coupe de France three times with Red Star. Was thirty four when he won the cup for the third and last time.
Capped six times:
31 May 1914 :Hungary - France : 5-1 (goal for Brouzes)
28 January 1923 : Spain – France : 3-0
29 avril 1928 : France – Portugal : 1-1
13 May 1928 : France – Czechoslovakia : 0-2
17 May 1828 : France – England : 1-5
29 May 1928 : (Amsterdam Olympics) : Italy – France : 4-3, two goals for Brouzes
Despite scoring three goals, Juste Brouzes was never on the winning side for France.