HALL OF FAME RED STAR 93
---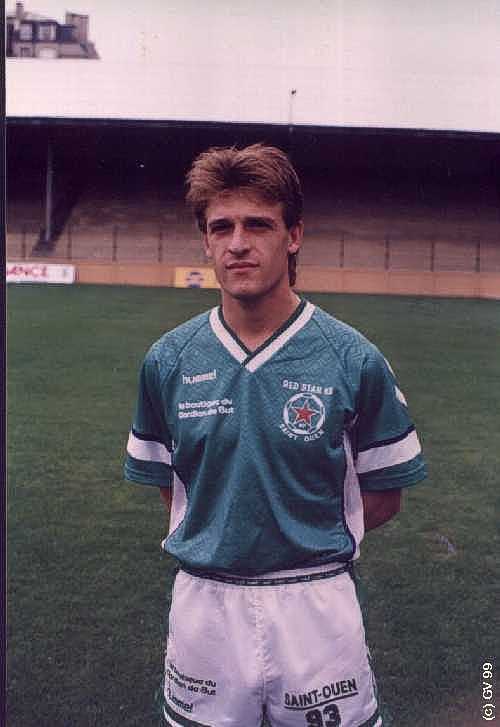 Born Metz, 9th November 1966
Defender
Clubs : Metz, Red Star (1988-1993), Gueugnon, Nancy, Le Mans. Tenacious tackler, combative despite his small frame, he went through a lean period after his spell at Saint-Ouen. Unemployed during several weeks before slotting into the side at Gueugnon and playing in D1. Released by Metz after playing one match in D1 in December 1987. David made his debuts with Red Star, then in D3 alongside the current Red Star coach, Jean-Luc Girard. Together they experienced promotion with the club back into D2. Currently with Le Mans after a brief spell with Nancy in D1, he recently featured in his sides narrow defeat in the cup semi-final against Sedan.
DAVID FANZEL UNDER THE SPOTLIGHT
Born Porto Alexandra (Portugal) 28th February 1946
Portuguese International (1 cap)
Centre-forward
Clubs : Sporting Lisbon, Varzim, Sonjanonense, Belenenses, Red Star (1970-1972), Volendam (Holland) Despite arriving at Saint-Ouen with the tag of the second top scoria in the Portuguese championship, he never really made the mark with the public in France. a meagre tally of five goals in 1970-71 was relatively poor for a number nine. His 90 minutes of glory came in the last match of the season at Valenciennes. In scoring the two goals which won a relegation dogfight and kept Red Star in D1, Ferreira lost his boots as the crowd of 500 Red Star supporters whom had made the trip in 10 busses invaded the pitch. A full Stade Nungesser saw Red Star save their D1 skins. After the match the Parisians sunk a beer or two whilst the " Northerners " drowned their sorrows. This was my first away match with Red Star. A few days later, the headlines read: 'Ferreira, the man who brings 5 million francs to Red Star'. This was the value of staying in D1.