HALL OF FAME RED STAR 93
---
Born Omonville, 25th January 1941
International : 15 caps
Midfield
Clubs : Cherbourg, Nantes, Bordeaux, Red Star (1970-1973) Simon in the mid-60's was the master technician at Nantes, a ball-distributer for his team-mate Philippe Gondet (top scorer in D1 in 1966 with 36) with whom he was to rejoin after a spell with Bordeaux at Red Star for several months in 71-72. Champion of France two years running with the Canaries in 1964-1965 & 1965-1966 and cup finalist with Bordeaux in 1969 (Bordeaux 0-Marseille 2). At the end of his career he played for three seasons at Saint-Ouen, but clashed with then coach Tomazover who found Jacky Simon too attack-minded. International :
24/3/65 : FRANCE 1 AUSTRIA 2
18/4/65 : YUGOSLAVIA 1 FRANCE 0
3/6/65 : FRANCE 0 ARGENTINA 0
19/3/66 : FRANCE 0 ITALY 0
20/4/66 : FRANCE 0 BELGIUM 3
15/7/66 : FRANCE 1 URUGUAY 2 Wembley, World Cup '66
20/7/66 : ENGLAND 2 FRANCE 0 Wembley, World Cup '66
28/9/66 : HUNGARY 4 FRANCE 2
22/10/66 : FRANCE 2 POLAND 1
11/11/66 : BELGIUM 2 FRANCE 1 (Euro qualifier)
3/6/67 : FRANCE 2 USSR 4 (45th minute goal)
27/5/67 : WEST GERMANY 5 FRANCE 1
6/4/68 : FRANCE 1 YUGOSLAVIA 1 (Euro qualifier)
17/10/68 : FRANCE 1 SPAIN 3
12/3/69 : ENGLAND 5 FRANCE 0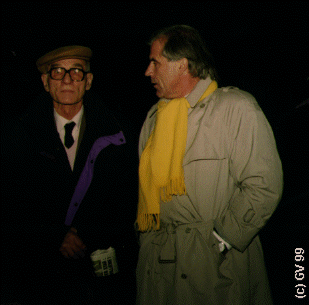 Born the 31 March 1914 in Hustz (Hungary) Hungarian & French International (4 caps) Centre-forward
Clubs : Attila Budapest (Hungary) - Lille, Sochaux, Red Star (1936-1946), Rennes, Angers, Stade Français, Stade-Red Star (1948-1949), Rouen, Covilha (Portugal), Roubaix, Cherbourg. Coach of Red Star 1959-1960.
When, in 1930, André Simonyi, picked to play for the Hungarian national team turned up for a match against Holland in Amsterdam, the secratary at the Hungarian Football Association threw him out, believing the young Simonyi to be an imposter ! Simonyi, only 16 years old and still in short trousers finally played and went on to become a legend.
At eighteen years of age, he left his homeland for a new life in France. During ten years with Red Star he became the idol of the Saint-Ouen faithful, and in association with Fred Aston, became part of one od the most famous striking partnership at the club. Technically excellent, fierce shot (due to training in bare feet !) he lived thorugh the glory years with Red Star - Champion of France (North Zone 1941); Cup winner 1942; cup finalist 1946. International:
8/3/42 : FRANCE - SWITZERLAND : 0-2
15/3/42 : SPAIN - FRANCE : 4-0
24/12/44 : FRANCE - BELGIUM : 3-1 (goal 30th minute)
8/4/45 : SWITZERLAND - FRANCE : 1-0
Ever popular; he performed the ceremonial kick-off to Red Stars' 1000th match in D2 in November 1993, accompanied by another Saint-Ouen legend, Christian Laudu.

Born in Argentina
International
Center-forwards
Clubs : Argentina, Italy, Red Star (1935-1939), Argentina.
Guillermo Stabile played in the first-ever World Cup finals with Argentina, scoring once in the finals against hosts Uruguay. His nation lost this final, but Stabile did have the honour of being the top scorer in the competition, nothing a total of eight goals in four games. Note that he did not play in the encounter with France.
A small man, five feet seven tall, nicknamed El Filtrador the " Infiltrator ", his outstanding feature was his acceleration and pace which made him a handful for defences.
He spent three seasons with Red Star, the last two as player-coach. At the outbreak of the second world war, he returned to his native Argentina as national coach.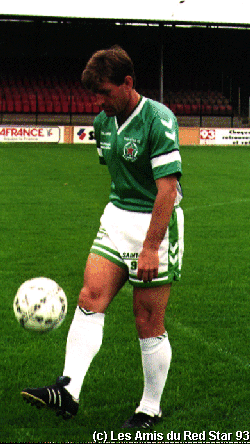 Born Zavidovici, Yugloslavia, 3rd April 1955
Midfield
Yugoslav international
Clubs : Krivaja, FC Sarajevo, Paris SG, Red Star 93 (1991-1992).
" The icing on the cake ", declared Red Star coach Michel Rouquette, when Safet arrived at the club in July 1991. Safet had just been released by Paris Saint-Germain after ten years of loyal service, including a league champions' medal and a cup-winners' medal. He took part in the 1990 Italian World Cup.
Susic the magician had but a brief spell in the green shirt, because after only three matches he was seriously injured at Angers. He did stage a comeback, and what a comeback, wowing the crowds with his body swerves, pin-point passing, confounding defences with his dribbling and at times the ball appeared to be glued to his boot.
Averaging ten goals per season with the PSG, the scored three times for Red Star. His career finished in the anonymous surroundings of the Stade Gerland, Lyon, in the 1992 cup quarter final, opposite the socerers' apprentice, Zinedine Zidane. After his playing career, he went on to coach Cannes, then spent a couple of seasons with Turkish club Istanbulspor.