HALL OF FAME RED STAR 93
---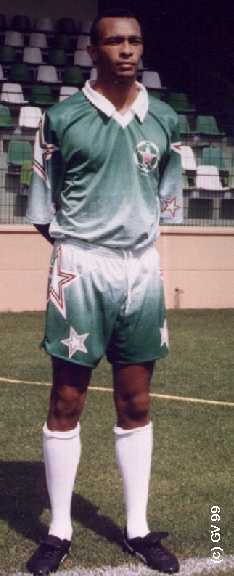 Born Paris 25th June 1970
Centre-forward or winger
Clubs : Caen, Red Star (1992-1995), Saint-Etienne, Montpellier.
Didier Thimotée learned his trade in the Paris suburbs before a brief spell in D1 at Caen (5 matches : 1 goal). He joined the Saint-Ouen setup, and after a brief period of integration became an important part of the Red Star attack. Initially partnered by Steve Marlet and Samuel Michel, then by Boutal and Marlet. Perhaps his moment of glory with Red Star came in Septemeber 1994 when he scored against Marseille in a 2-1 victory at Saint-Ouen, the last time ths famous temple of football was full. Naturally his strength, speed and ability attracted the attention of suitors from other clubs, and he left for Saint-Etienne. Unfortunately his time in the Forez was ruined by an injury whic kept him out of the side. In addition the Stéphanois slid back into D2. Thimothée did score on his return to Saint-Ouen in November 1996 in a 1-1 draw. Recruited by Montpellier, again injury ravaged his season. Finally, in June 1999 he was arrested by police in Paris following an altercation with a taxi driver.