CFA 2
Round 23
Saturday 1st April 2006
RED STAR 1 ROUEN 2
Attendance : 350 - referee : Sébastien Crampon assisted by Luc Chevereau & Gérard Tardy.
Goals : Baldé (67) - Da Veiga (1), Kouubemba (84)
Booked : Tounkara (25), Baldé (51) - Costa (44), Fernandes Da Veiga (89)
Substitutions : Gueï by Davidson (70), Costa by Baghdadi (57), Droesch by Saillard (77), Dernandes Da Veiga by N'Diaye (89)
RED STAR FC 93 : BELL (1), HAMMAMI (2), N'SIMBA, cap. (3), TOUNKARA (4), BEHICHE (5), DIOMANDE (6), GUEI (7), ABADALLAH (8), DOUMBYA (9), SINOBAD (10), BALDE (11), YESSAD (12), PAGES (13), CHAMMA (14), BUDOC (15), DAVIDSON (16) Coach : Jean-Luc GIRARD
ROUEN 2 : ROBERT (1), DUMETS (2), LEYSSALES (3), LARBI (4), BOKETSU (5), BENKARA (6), RATSIMBAZAFY, cap. (7), DROESCH (8), FERNANDEZ DA VEIGA (9), COSTA (10), KOUMBEMBA (11), SAILLARD (12), DIOP (13), BAGHDADI (14), EMMANUEL (15), NDIAYE (16)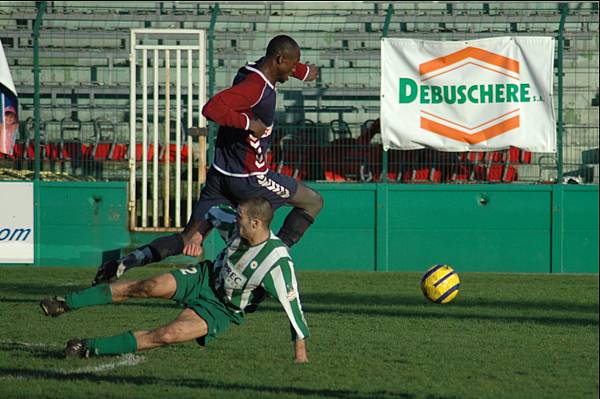 Rouens' excellent José Fernandes Da Veiga flies past Bilal Hammami
DEVON LOCH ?
Driving to the match, listening to Five Live, Sheffield United were one down to an early goal at Stoke before Danny Webber saved United with a late equaliser. As Uniteds' game ended and Red Stars' started, there were some remarkable parallels in store. United, who at one point had an enormous advantage over the chasing pack. Red Star well clear at Christmas and looking good. United going through a lean patch. Same for Red Star. United let in an early goal at Stoke. As Red Star fans were still taking their seats, an unmarked Fernandes Da Veiga repeated his feat of last season whilst playing in Cosmo's colours by looping a header over Yann Bell into the Red Star net. More similarities were to follow except....
Red Star huffed and puffed throughout the first period without even creating one clear chance on goal. True, Baldés claim for a penalty deserved a second look as the lively Red Star striker was crashed into in the penalty area. But Mr Crampon, somewhat distanced from the action waved play on. Apart from that, Red Star were guilty of being shot-shy and Robert in the visitors' goal only had to dirty his gloves in retrieving the ball after wayward shooting.
After the pause Rouen lost their shape a little and yawning gaps appeared as they pulled back into defence. On Red Stars' right Bilal Hammami and Taïeb Abdallah had the space and time to set up some good attacks only for some non-descript finishing and a alarming lack of presence in the final ten yards to ruin the good appraoch play. Down the other flank Kaba Diomande was in fine form, prompting some dangerous moves. In front of goal however, Baldé was denied supply, Doumbya was tightly shackled and Sinobads shooting was lamentable.
Just as United pulled one back at Stoke, Red Star managed to finally draw level after a period of sustained pressure. As he did last week at Saint-Omer, the crafty BALDE managed to drift off his marker enough to place a fine header past Robert (1-1). Honest reward for some hard work and territorial dominance. Red Star pushed forwards for the win, bringing on the speedy Davidson for Franck Gueï. However, as it appeared to be a matter of minutes before Red Star would grab a winner, Tounkara made a ghastly error in slipping, letting past Fernandes Da Veiga. With Red Stars' defence all at sea, Koubemba was left unmarked and made no mistake to crucify Yann Bell and Red Stars' last hopes.
Very disappointing given Red Stars' second half territorial dominance. Add a touch of nonchalence to one or two performances and it all makes a day that leaves a bitter taste in the mouth. The only positive thing to come out of the day was nearest rivals Saint-Quentin slumping at Sannois, but if Red Star are to avoid doing a Devon Loch, which appears to be more and more likely then some drastic measures will have to be taken.
© AllezRedStar.com 2006