CFA
Round 6
Saturday 9th September 2006
RED STAR 0 PARIS SAINT-GERMAIN 0
Attendance : 1103
Booked : Milherre (69) - Cousin (83)
Substitutions : Fabiano by Da Costa (52), Ouattara by Sambague (64), Lefort by Davidson (75) - Arnaud by De Sousa (60), Boli by Harrouiard (87)
RED STAR FC 93 : DJIDONOU (1), LACOMAT (2), DIOMANDE (3), KANGULUNGU (4), FOURNEUF, cap. (5), MIHERRE (6), OUATTARA (7), FABIANO (8), LEFORT (9), N'SIMBA (10), BERTHIER (11). Subs : DA COSTA (12), CHARLES (13), YESSAD (14), SAMBAGUE (15), MOULIN (16). Coach : Bruno NAIDON
PARIS SG B : COUSIN (1), REINE-ADELAIDE (2), ICHALALENE (3),MUOTTO (4, MABIALA (5), MULUMBU (6), PIETRE, cap. (7), CHANTOME (8), ARNAUD (9), RODRIGUEZ (10), BOLI (11). Subs : REITHMANN (12), DE SOUSA (13); NGOLYI (14), HARROUARD (15), HABERT (16). Coach : Vincent GUERIN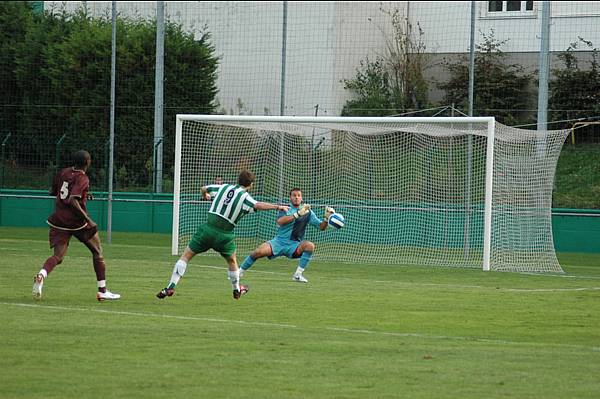 Grégory Lefort denied by Nicolas Cousin
BIG CROWD BUT NO GOALS
One of Bauers' biggest crowds since Red Stars' return from La Courneuve saw an entertaining but goalless match yesterday evening. For the first forty-five minutes Red Star dominated affairs, but with the early withdrawal of the influential midfielder Nicolas Fabiano, Red Star had to play second fiddle in the last forty minutes or so to a resurgent PSG reserve side. Fabiano was excellent in the first half, probing, pushing, distributing classy through balls to Gregory Lefort, in for the injured Khaled Kemas. From one of these pin-point passes, Lefort sprung PSGs' offside trap but only a finger tip save from PSGs' Cousin prevented Red Star from opening the scoring.
Lefort laboured gamely against a very strong and very physical PSG defence, but the class and talent of Cédric Rogin was sorely missed. Reevis N'Simba, making his first full outing of the season tried hard but it was not enough to make the difference required at this level of football. Occasionally the Uruguayan Rodriguez, sometime first-teamer at the Parc des Princes looked dangerous, making darting runs and powering his way past defenders, but his young colleagues often erred in not giving him the support required. With about five minutes remaining PSG could have stolen the points when a powerful header skimmed the top of the bar from a free kick, and earlier Yoann Djidonou had to make an acrobatic one-handed save to turn the ball to safety.
Red Star will no doubt rue the couple of good chances spurned in the first half, particularly the one-on-one of Lefort. The introduction of Da Costa in the second half gave Red Star alternatives, but the youngster was a little lightweight against the rugged visitors' defence.
Red Star now have two trips to Brittany to get back on the winning trail before a tough test in three weeks time at home to Auxerres' always-impressive reserves.
© AllezRedStar.com 2006